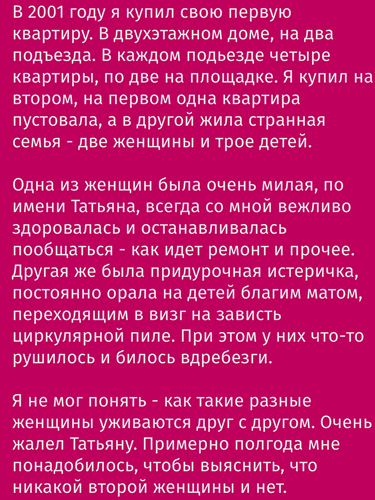 In 2001, I bought my first apartment. It was a two-story building with two entrances and four apartments in each entryway — two on each floor. Mine was on the second floor, there was an empty apartment on the first floor, and a strange family lived in the other one — two women and three children.
One of the women, Tatiana, was really nice and always greeted me politely and would stop to chat, ask how my repairs where coming along, etc. The other one was a hysterical bitch, always screaming at her kids at the top of her lungs — blood-curdling shrieks that would escalate into screeches to rival a buzz saw. At the same time, things were constantly crashing and getting smashed to smithereens.
I couldn't understand how two such different women could get along with each other, and I felt especially sorry for Tatiana. It took me about six months to figure out that there was no second woman.
AUDIO: https://voca.ro/18I7Et8n3k4V
Where I live, we tend to have drunks sitting on the bench in the entrance to our building. But they're of the quiet, polite, calm variety, and they're from our building. Some buildings have old ladies in their entrances, but we have drunks.
I recently did some work on my place, and at a certain point, I needed to change out the bathtub — an old, cast-iron tub… and heavy. I took one look at it and knew right away, "There's no way you're gonna schlep that thing out of here on your own. I know! I'll hire the drunks."
I go down to the entrance, where three of them happened to be sitting. So I say to them, cheerful as a sunny day: "Hey, guys! I'm looking for someone strong as an ox, pure of heart, and looking to make 500 rubles."
To this, the skinniest and slickest-looking drunk pipes up, "Oh, that's us alright! Jerry there is strong as an ox; Nicky's pure of heart; and I want to make 500 rubles.
AUDIO: https://voca.ro/1fWJFYUFlG5N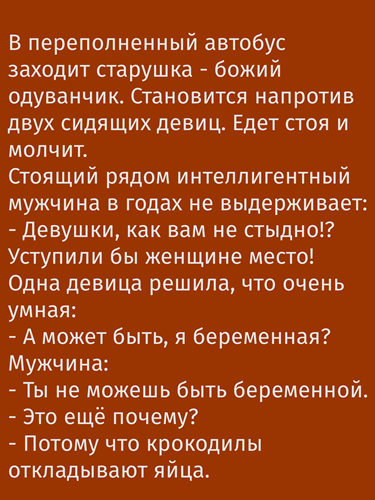 A frail, elderly woman steps onto a crowded bus and stands silently in front of two girls who are seated. As the bus moves on, a polite, mature gentleman standing beside her, can no longer hold his tongue.
"You girls ought to be ashamed of yourselves. Let the lady sit, already!"
One of the girls decides she's going to be smart:
"And what if I'm pregnant?" she asks.
To which the man responds,
"You couldn't possibly be pregnant."
"Oh yeah? How's that?"
"Because crocodiles lay eggs."
AUDIO: https://voca.ro/16sbPaE0REX1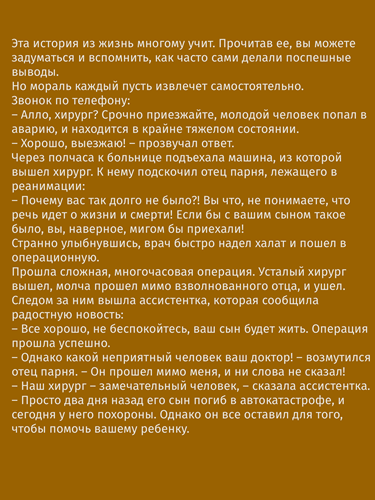 This real-life story packs a lot of life lessons. You may reflect on and recall how many times you yourself have jumped to rash conclusions while reading it, and, hopefully, draw your own moral from it.
The phone rings.
"Hello, doctor?" Please come immediately. A young man has been in an accident and is in extremely critical condition."
"Very well, I'm on my way!"
A half hour later, his car pulls up to the hospital, and the surgeon steps out. The father of the injured young man, now lying in the intensive care unit, rushes up to him.
"What took you so long?! Do you not realize a life is hanging by a thread?! If it were YOUR son, I'm sure you would've been here in a flash!"
Mustering an odd smile, the doctor puts on his scrubs and heads for the operating room. After a long, arduous surgery, the tired doctor emerges, walks past the frantic father without as much as a word and just leaves. In his wake, an assistant appears with happy news.
"Everything is fine, don't worry, your son's going to live. The operation was a success."
But the man is indignant. "He's some miserable character, your doctor. He walked right past me without saying a word!"
"Our doctor is an amazing human being," says the assistant. "It's just that his son died in a car accident two days ago. The funeral was today, and he left everything to come help your child."
AUDIO: https://voca.ro/14dBtwL4aZ0Q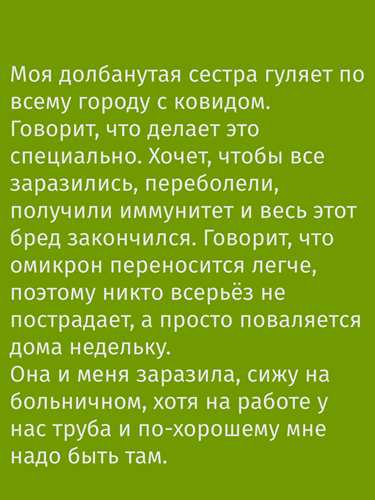 My freakshow of a sister is running around town with COVID. She says she's doing it on purpose because she wants everyone to get infected, get over it, develop immunity and all this mess'll be over. She reckons omicron is milder, so nobody's going to get seriously sick, just be off their feet for a week or so. Meanwhile, she infected me too, so now I'm on sick leave. But things are crazy at work and they could really use me there right now.
AUDIO: https://voca.ro/178QmJ2T30DT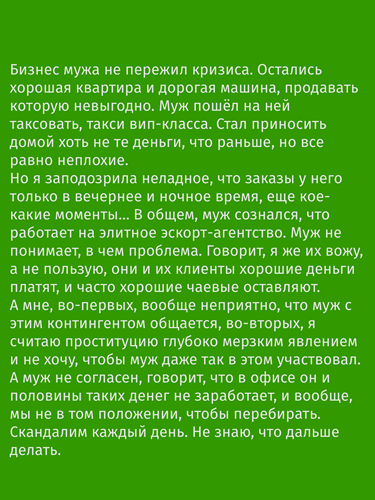 My husband's business didn't survive the crisis. All we were left with was a nice apartment and an expensive car, which it didn't make any financial sense to sell, so my husband started driving it as VIP transportation for hire. He started bringing in good money — not like before, but definitely nothing to sneeze at.
However, I thought it was fishy that all his fares were in the evening and at night, among сertain other things that raised flags… Anyway, my husband confessed that he was driving for an elite escort service. He has no problem with it. He's like, "It's not like I'm a client — I just drive them around. They pay well and sometimes the clients leave good tips."
But I, number one, don't like the fact that my husband's interacting with that ilk, and number two, to me prostitution is an extremely base, disgusting thing and I don't want my husband to have anything to do with it — even marginally. My husband disagrees. He says he wouldn't even be raking in half that kind of money at an office job, and that we're not in any position to be so precious anyway.
We fight every day. I'm at the end of my rope.
AUDIO: https://voca.ro/1oQh16IUlE0V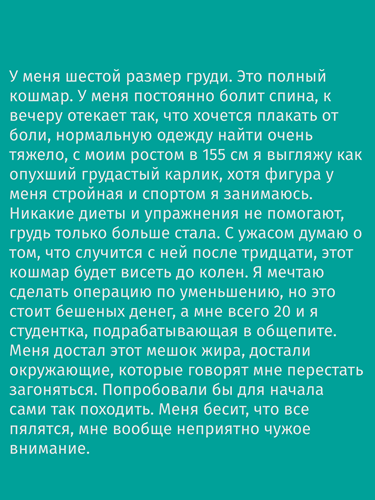 I wear a DD cup, which is an absolute nightmare. My back hurts constantly, and by evening, I have so much swelling that I want to cry from the pain. It's really hard for me to find normal clothes. At 5 feet, I look like a bloated, busty dwarf, although I'm proportionate and do work out. Diets and exercises are no help — if anything, my chest has gotten bigger. I shudder to think what it's going to be like after I hit thirty — they'll be hanging down to my knees. I'd love nothing more than to have a breast reduction, but that's exorbitant, and I'm just a 20-year-old college student with a part-time catering job. I've had it with these bags of fat. I'm sick of people telling me to stop agonizing over it. Maybe they should try "walking a mile" in my bra. It pisses me off that everyone stares at me — getting looks from strangers makes me really uncomfortable.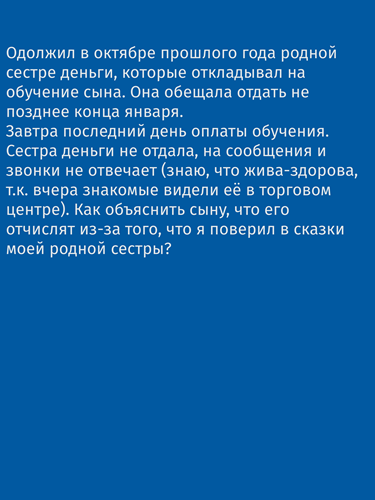 In October of last year, I lent my own (flesh and blood) sister some money that I had put aside for my son's school. She promised to pay me back no later than the end of January. Tomorrow's the deadline for tuition. My cousin hasn't paid me back, isn't responding to messages or phone calls (and I know she's alive and kicking because some acquaintances of mine saw her at the mall). So how am I supposed to explain to my son that he can't go to school because I bought my cousin's bullshit?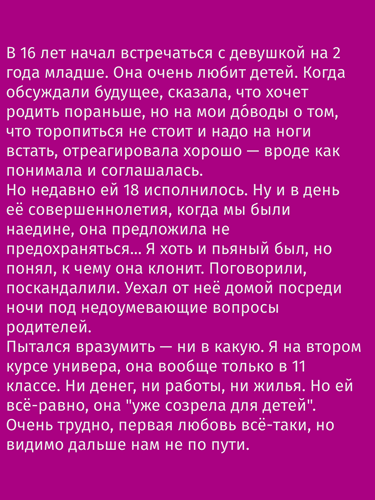 When I was 16, I started seeing this girl who was two years younger than me. She really loves kids. Whenever we talked about our future, she'd say she wanted to start having babies early, but when I'd argue that there's no rush and we should get on our feet first, she'd react positively, as if she understood and agreed.
But recently, on her 18th birthday, when we were being intimate, she suggested we not use protection. Even though I was drunk, I knew what she was getting at. We talked about it and argued, and I ended up leaving her place in the middle of the night and driving home to a barrage of questions from my bewildered parents.
I tried reasoning with her, but nothing doing. I'm in my second year of college — she's in 11th grade, no money, no job, nowhere to live, but she doesn't care. She's "ripe for babies," as she puts it. This is really tough — she was my first love, after all, but I guess this is the end of the road for us.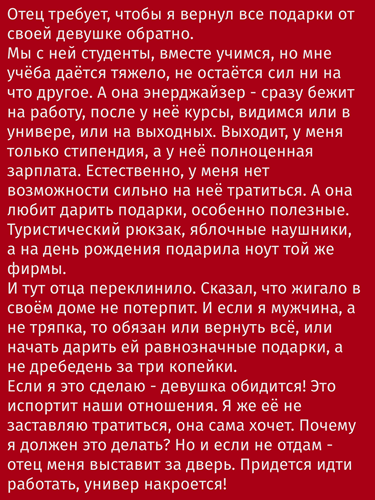 My dad is demanding that I return all the gifts my girlfriend has given me. She and I are in college together. But studying doesn't come easy to me and leaves me without any energy for anything else, whereas she's the energizer bunny; she'll up and run off to work, then it's off to her classes. We see each other at school or on the weekends. As it turns out, I have to make do with a study grant, while she makes a full salary, so naturally I don't have a lot to spend on her. And she's big into giving gifts — especially the useful kind: travel backpacks, Apple headphones, and even an Apple notebook for my birthday… and that's when my dad snapped. He said he won't have a gigolo living under his roof, and that if I'm a man and not a doormat, I have to give everything back OR start giving her gifts of the same value, and not worthless trinkets. If I do give everything back, she's going to be offended! It'll be the undoing of our relationship. It's not like I make her spend money on me — she wants to. Why should I do this? But if I don't, my dad's going to kick me out of the house. I'll have to get a job, and that'll be it for school!