Как здесь лучше переиначить «ended up a disappointment»? 🤔
The text is devoted to give us an insight into the American day-to-day life, their habits, mentality, and specific features. Viktor Fridman provides us with meticulous comparison of two utterly different universes, namely, the USSR and the USA. Thus, the native of the USSR had a wonderful experience moving to America, which, in turn, ended up a disappointment that did not live up to his expectations. By and large, the article may seem a bit biased, however, the author definitely tried to take a helicopter view to make us hooked on such brilliant memoirs. In the long run, Viktor Fridman didn't have cold feet, so that he managed to handle all the challenging obstacles.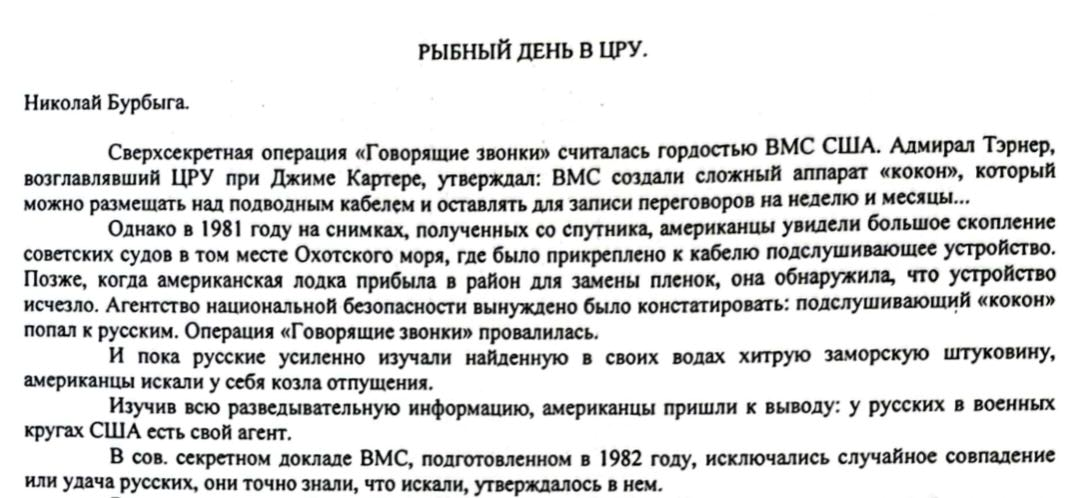 Неплохой отрывок для любителей, начало текста)
*очень надеюсь, что grumbler снова поможет с поиском фактической информации в плане «говорящих звонков» и «кокона» 🤣🤣🤣
FISH DAY AT THE CIA
Nikolai Burbiga
The top-secret operation "Talking Calls" was considered the pride of the US Navy. Admiral Turner, the head of the CIA during the Presidency of Jim Carter, claimed: the Navy has created a complex device dubbed "cocoon", which can be placed over an underwater cable and left to record negotiations for weeks and
months…
However, in 1981, the satellite provided Americans with an image of a large cluster of Soviet ships in the very place of the Sea of Okhotsk, where a listening device was attached to the cable. Later, when an American boat arrived in the area to replace the films, the device was found missing. The National Security Agency had to state that Russians had got the listening cocoon. Operation "Talking Calls"
officially failed.
And while Russians were intensely studying the ingenious overseas contraption found in their waters, Americans were just looking for a scapegoat.
Having scrutinized the data, Americans came to the conclusion that Russians had a spook in the US military establishment.
Thus, a top-secret Navy report was prepared in 1982. It read that Russians had been a hundred percent sure what they had been looking for. Any probable
coincidence or even luck were excluded.
Интересует корректность употребления лексики в некоторых моментах, например, ликвидно ли здесь использовать surreptitiously? 🤔
"ТАК уезжай обратно в Россию!!!" - слышу я возмущенные выкрики. Дорогие мои! А вы пробовали когда-нибудь сняться с насиженного места, каким бы плохим это место ни казалось, и ринуться куда-то навстречу судьбе? Я тайно надеюсь когда-нибудь вернуться. Поднимаю за это свой бокал вина. А впрочем, в данном случае "Столичная" более уместна...
I can hear outrageous yells. "Then go back to Russia!!!" Sweethearts! Have you ever tried to uproot yourself (to leave the occupied place), no matter how ill this place may seem, and rush somewhere to face the remarkably unknown?
Deep down, I surreptitiously hope to come back someday. I raise my glass of wine to this. However, in this case Stolichnaya is far more appropriate (more to a point)…
Верен ли грамматически второй вариант? 🤔
The operation lasted for an hour and cost $7,000, $1,500 of which I paid from my own pocket.
The operation lasted for an hour and cost $7,000, of which I defrayed $1,500 myself.
Выглядит ужасно, но как ещё это можно вывернуть? 🤣
А многие студенты не знают, что получится, если умножить минус на минус.
Moreover, many students do not know what minus multiplied by minus gives us.
Всем доброго времени суток 🥰🥰🥰
Peter ist im Krankenhaus oft von seinen Kollegen besucht worden / geworden.
Верны ли грамматически оба варианта? 🤔
Показалась интересной вторая половина абзаца, вот поэтому хочу спросить Ваше мнение, как бы можно было улучшить перевод и сделать его более русским 🤔
To see the whole trend in one place, consider Grow Biz International, No. 1 on our list of America's fastest growers, which is putting reengineered managers back to work. It operates four chains of stores that sell different types of new and second-hand goods: sporting equipment, kids' clothes, computers, and musical instruments. Grow Biz has 583 mostly franchised stores and plans to add more than 200 this year. Where is it finding top-quality franchisees? "About 90% of them are coming from corporate middle-management jobs," says Grow Biz CEO Ron Olson. "They're around 40 years old and have a net worth of $300,000. Ninety percent have a college degree."
Чтобы нагляднее проследить эту тенденцию, давайте рассмотрим компанию под названием Grow Biz International, она является первой в нашем списке самых быстроразвивающихся корпораций, которые принимают менеджеров, потерявших работу, давая им возможность пройти переподготовку. Под эгидой Grow Biz International функционирует четыре сети магазинов, которые занимаются продажей как новых, так и подержанных товаров – это и спортивный инвентарь, и детские вещи, и компьютеры, и даже музыкальные инструменты. В общем счете Grow Biz насчитывает 583 франчайзинговых магазина, к тому же в этом году ожидается расширение сети – планируется включить ещё более 200 единиц. Но где же им найти действительно достойных менеджеров в свои ряды, которые смогут продуктивно работать под эгидой целой корпорации? Как сказал исполнительный директор Grow Biz Рон Олсон: "Примерно 90% таких руководителей сидит, как правило, в среднем звене. Им около 40 лет, а собственный капитал составляет в районе $300,000. Практически у всех есть высшее образование."
Как-то смущает вторая половина перевода 🤔
Grow Biz is getting a boost thanks to a one-time $20,000 development fee from each new franchise, but sales of new merchandise and royalties ranging from 3% to 5% of each unit's sales should keep it appropriately named for years. And the company should continue to benefit from two very 1990s trends: value-decade consumers searching for bargains and a steady stream of disenfranchised middle managers ready to run their stores.
Grow Biz, конечно, получает очень приятный бонус в размере $20,000 от каждой новой франшизы, но вот уже конкретно сами продажи товаров и роялти в размере от 3% до 5% обязуют каждую такую франшизу сохранять оригинальное название сети на долгие-долгие годы. В будущем компания всё также продолжит пожинать плоды благодаря тем самым тенденциям еще 90-х годов: потребители, очевидно стремящиеся к выгодным ценам, и постоянный поток менеджеров среднего звена, готовых брать бразды правления на себя.
Доброго времени суток 😌
Как бы лучше выразить это на русском — re-engineered managers? 🤔
Полное предложение:
To see the whole trend in one place, consider Grow Biz International, No. 1 on our list of America's fastest growers, which is putting reengineered managers back to work.
Всем доброго времени суток! Оцените, пожалуйста, правильность данного текстика 🥺
В идеале надеюсь на профессиональный взгляд от Uly 😍😍😍
OilProm
To begin with, we have to admit that a plenty of candidates have been scrutinized and thoroughly examined according to all possible high standards and requirements for such an essential role in our corporation. Eventually, we were provided with two highly regarded professionals that have presented their spectacular qualities and skills. Undoubtedly, each has demonstrated abundance of background experience, daintiest strengths and fabulous soft skills that can never be overrated. Therefore, we needed to take a helicopter view to choose the most suitable employer to make our company flourish and prosper. We reckon that the position of interpreter is an inseparable part of any international business. What's more, it covers working friendly climate as well. Consequently, we strive to hire a top brass specialist that is not only able to be conscientious, settle his obligations properly and fulfill the aim against the clock on the one hand, but also quite respectful, well-balanced, and effusive person on the other hand. On behalf of the heads of our company, I am positive enough to state that soft skills themselves make a difference, a tremendous difference. The last step of our campaign was an interview concerning anything but working side of an issue. Summing it up, professional traits being approximately equal, a human component itself became the one that made us pick the candidate that perfectly fits the position of an interpreter in the corporation. It seems crucial to emphasize, our company does not accept any manifestation of being pushy, obstinate, disdainful, haughty, or aloof. Having taken everything into consideration, we are ready to provide you with our results. Mr. Anton Boyko and Mr. Sergey Ivanoff gave us an utterly excellent impression of their selves what eventually led to the toughest choice we have ever faced. Each being discernibly resourceful and palpably perceptive, our choice, nevertheless, fell on Mr. Sergey Ivanoff. However, it doesn't mean that we somehow happen to diminish the professional background and skills of Mr Boyko. Readily, an old truth asserts "Beauty is in the eye of gazer", and this case is by no means an exception.