Перейти в Вопросы и ответы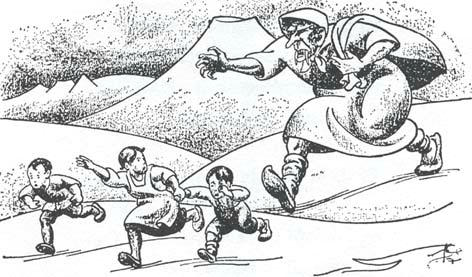 Hope you behaved this year…
St Nicholas is the character most children wish to see or hope to have a visit from him. However, as parents say, one should behave to get Christmas presents. If you don't, you could not only be left with no presents, but can be punished by some really creepy creatures.
For example, if you were in Iceland, you could have a visit from the dreaded Jólakötturinn. It is a black cat who is said to eat the children who did not finish their duties on time. There were also the Jólasveinar, a gang of thirteen trolls which scared children who did not behave. Luckily for the children with bad attitude, this trolls became a sort of Santa's helpers.
But that's not all, the worst of the Icelandic Christmas nightmares is Grýla. She's an ogress just like Hansel & Gretel's witch. Grýla kidnaps, cooks and eats children. She's the owner of Jólakötturinn and former boss of the Jólasveinar. She's the one you all should be afraid of.
In Austria there is an anti-Santa being called Krampus. He's a devilish creature who beats children. In Germany, they have Frau Perchta, a witch that takes out the internal organs and replaces them with junk. Also German are Belsnickel, Knecht Ruprecht and Ru Klaas, who used to hit children and recall them to behave so they can receive gifts for Christmas.
There are more anti-Santa characters in other traditions. But I suggest you better behave so you don't have to meet any of them.
Have a wonderful Christmas Eve!
Поделиться с друзьями