Перейти в Вопросы и ответы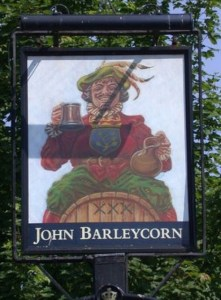 John Barleycorn
John Barleycorn is an old character from English tradition. He symbolizes the crops, the beer and whiskey made out of barley.
There is a popular song which tells the story of John Barleycorn. This song is full of cultural references to what would be the cycle of planting, growing, harvesting and even death.
Although there are many versions to it, death is a constant in them and it is seen also as a messianic element, as it is necessary that John Barleycorn die so others could live, be it the crop or the fed with the crop:
The following are the three last verses from the Robert Burns version of the song:
John Barleycorn was a hero bold,
of noble enterprise;
for if you do but taste his blood,
'twill make your courage rise.
'Twill make a man forget his woe;
'twill heighten all his joy;
'twill make the widow's heart to sing,
tho the tear were in her eye.
Then let us toast John Barleycorn,
each man a glass in hand;
and may his great posterity
ne'er fail in old Scotland!
You can hear a version of it here: http://bit.ly/2ia5Jo8
Поделиться с друзьями