El idioma ruso se originó en español. Esto es conocido por todos a través de los escritos de los académicos Nosovsky y Fomenko. Por ejemplo, "мне годно" - es suficiente "me gusta". ¿Y qué tipo de trabajo duro es discutible refutar esta teoría? ¡Traer escritos de académicos!
"No mountains. We're more of a woodland. Virgin forests. Rivers and lakes. Lakes are the loveliest", he said and could not help but revive memories. "My hamlet of Tsyareshki is just next to two lakes. On a calm late afternoon, water's flat. Like a mirror. And the forest hangs treetops down. As if painted. Just fish splash. Pikes are huge! It's head and shoulders above mountains!"
Being an untalkative character, he said too much for one time, felt it at once and stopped speaking. But his stirred thoughts and images were already there, in the distant home land, and at the wild jumble of rocks he was feeling so unbearably lonely as he had not for a long time in captivity.
She must have felt that and, once he was silent, asked: "Speak more. Speak your Belorus."
Meanwhile, the sun got covered with a grey foggy cloud again.
A swift grey shadow fell down on the bare mountainside and a trail trodden aslant it; wet smoky ragged clouds rapidly moved across the slope. It was bitterly cold and windy.
Clumsily and somewhat reluctantly at first, pausing frequently, living old memories again, he started telling her, as if about something faraway, dear and extraordinary, about oak groves bountiful with large acorns, about beaver huts on lakes, about icy cold, healing birch sap in spring and about the scent of bird-cherry blossom in May.
(translated from Belarusian; excerpt from Alpine Ballad by Vasil Bykau)
Всем привет! Сколько и как только ни ругаем мы сей «благословенный» ресурс, но поганой метлой нас отсюда не выгнать😉. Разговоры о том, что LingvoLive скоро загнёт копыта, тоже давно ведутся, но есть подозрения, что он нас пережить может. 😜 Поэтому хотелось бы обменяться мнениями по некоторым техническим вопросам.
У меня LingvoLive на трёх устройствах, поэтому есть возможность сравнить, как работает ресурс. Чаще пользуюсь LingvoLive на Android. Возможно, потому что он всегда под рукой, а может, по привычке. Один большой минус - некоторые вопросы вдруг перестают открываться, тогда приходится заходить на сайт LingvoLive с компьютера. Но так как уведомлений на сайте нет, то нужный вопрос ищу вручную. Недавно установила LingvoLive на устройстве с iOS. Там свои недостатки - не могу удалить собственные комментарии, чтобы, например, их отредактировать, а ещё один неприятный сюрприз - нет эмотиконов.
Сталкивались ли вы с подобными проблемами, и как вы их решаете? Спасибо заранее.
PS. Надо же, какое срвпадение! Прямо сейчас приложение, которое на iOS, предложило функцию dictation! 🤩
STAINED OAKS
The Dniapro flows between high banks gently and confidently, washing sand out from under slopes, at times uncovering for human eyes things it has hidden from them before: spongy limestones, purplish-red iron ore slabs and centuries-old, Viking-age oaks.
They are black like bone, these stained oaks. Like bone char. And when one sees a wet log on a shoal, half-buried with sand, he realizes at once the origin of the folktale of heroes who sleep buried in pebbles and tangled in grassroots, sleep until a time of great peril comes and the people summon them.
...In many times of peril, they never resurrected. Perhaps, were indeed petrified like the oaks?
Who knows?
Yet the great river flows and flows. Long before us it carried its waves past backwaters, virgin forests and storks' nests. And when none of us is left, it will still be running on and on, to the last, distant sea.
...The village of Azyaryshcha that perched above the Dniapro, on a white sand slope, is engulfed by water in spring, so it stands on an island. The church is nearby, on another island, so on Easter Sunday in some years the priest with clergy have to go around it in dugouts rather than on foot.
The Easter passed; the water dropped a lot. In uplands, they are already done ploughing and sowing. The village, empty, drowsy, is day-dreaming in lazy rays of the May sun. Still, the Dniapro, having almost retired to its summer low flow, can't calm down and gnaws lazily at the bank's bottom... Silence. Peace. An odd rooster's crow above steaming manure.
(translated from Belarusian; excerpt from Ears of Rye under Thy Sickle by Uladzimir Karatkevich)
PEAR TREE
The pear tree was in its last bloom.
All its branches, all great forks, up to the last twig, were thickly powdered with whitish pink blossoms. It was foaming with them, luxuriating and basking in bee humming; it was stretching its boughs sunwards and scattering small delicate fingers of new shoots in the sunshine. And it was so mighty and fresh, so frantically did the bees argue in its pink paradise, that it seemed it would last forever and would have no end.
Still, its last hour was coming.
The Dniapro was approaching it warily, bit by bit, like a robber. In its eternal yearning to shatter the right bank, in freshet it came very close to it, destroyed slopes, carried away withy in order to plant it at another place, instantly tore out bits of the bank, or warily undermined it, to plunge suddenly whole overhangs of land into water. Then it backed up, till next spring, and grass mercifully rushed to heal the wounds inflicted by the Dniapro. And it did come back: here destroyed, there undermined and in the course of time nearly encircled the pear tree.
…
Behind it lay Dniapro Valley slopes, villages, dense forests and boroughs. Behind it stood moss-covered castles, black no-chimney huts and ancient white belfries.
Yet the pear tree was in its last bloom. The Dniapro was approaching it warily, like a robber. This last year the tree stood steadfast by the strength of its roots that had fortified a semicircular outpost.
Another of a million floods that the Dniapro had seen was abating. The next one would throw the tree into waves, along with the blossom. But it didn't know that. It was blooming in bee humming, and petals were falling down on the rapids.
(translated from Belarusian; excerpt from Ears of Rye under Thy Sickle by Uladzimir Karatkevich)
Здравствуйте. Можно ли сказать having failed in deluding her, I unwillingly got up?
Спасибо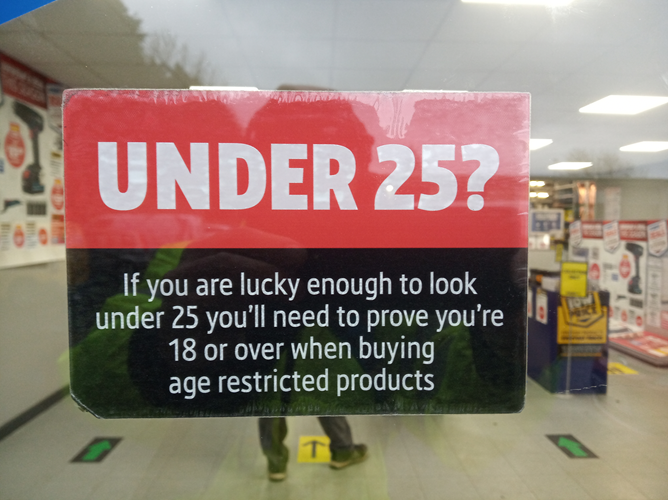 I like this "if you are lucky enough to look under 25".